Founded in Yangon in 2012 under the name EDULINK Australia, our school quickly grew to become the leading locally-owned center for English Language Training in Myanmar. A growing study abroad department and consistent business-to-business contracts lead to the eventual opening of multiple Yangon branches.
Today, with teachers working in Mandalay, Naypyitaw and through our Virtual Learning Environment, to classes based in Bangkok, EDULINK is emerging through these challenging times as ready as ever to deliver on our promise of premium quality education services helping clients achieve their learning objectives.

Our Vision
Our vision is to be the leader in high-quality, high-impact education in Myanmar.
Our Mission
Our mission is to help people to achieve success.
That is:
English language programs: We empower people to use English with confidence to achieve their goals
Study abroad: We match students with outstanding degree programs at reputable universities around the world
HOW WE SUPPORT OUR STUDENTS
[rt_separator_style radiantthemes_separator_width="35px" radiantthemes_separator_height="1px" radiantthemes_separator_color="#aaaaaa"]

Practice Sessions
Additional or remedial English
Language learning

Student Clubs
Engaging our students in a happy
and fun environment

Public Workshops
The lineup of interesting, purpose-driven and engaging workshops on offer at EDULINK is constantly changing, adapting to your needs and providing students as well as the general public to experience a wide variety of informative and entertaining events.

Accredited Courses
Our Cambridge Business English Course
allows graduates to test with Cambridge
and receive certification recognized
worldwide.

Supporting specific learning
needs

Personal Coaching
Supporting our students on their
learning journey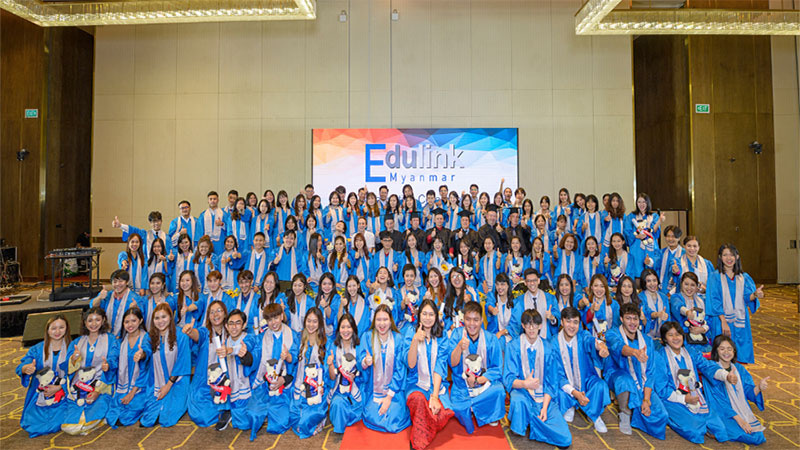 WHY CHOOSE EDULINK?
Proven teaching methodology by a highly qualified team of teachers and trainers with international recognised qualifications with industry and academic experience.
Managed by an experienced Director of Studies, Trent Nelson with more than 20 years in English Language teaching and management of English Language training programs in the tertiary education field.
All teachers are CELTA trained and native speakers.
Provide one stop services for students who want to study abroad.
One of the Australian Qualified Education Agent Counsellors in Myanmar
[rt_iconbox_style icon_icofont="icofont icofont-social-google-map" icon_font_align="center" icon_size="18px"]
04-001,004,006,007 (Level -4) (above MK Fashion)
Junction Square, Pyay Road, Kamaryut Township,
Yangon Myanmar.
[rt_iconbox_style icon_icofont="icofont icofont-phone" icon_font_align="center" icon_size="18px"]
[rt_iconbox_style icon_icofont="icofont icofont-envelope" icon_font_align="center" icon_size="18px"]
[rt_clients_style navigation_style="two" allow_dots="false" autoplay_timeout="6000″]